Gharana Musicians
keyboard, backing vocals

Suchismita

Flute, Vocals

Susnata's keyboard controls the base of every composition. He has been practising & improvising himself and coming up with his unique creativity. His primary inspiration is the Greek music composer Yanni combined with the legendary Anandashankar among other great masters like Richard Clayderman, Vangelis, Bela Fleck. His self-taught playing is somewhat different from the conventional. He mixes classical creativity with soft rock lines & the result is an unheard match. It might seem that he is playing classical, but within a few seconds that will be transformed into some fusion melody. And thus it is unique as improvised.

Suchismita has been trained in the best of world schools in Indian and western classical music and lives by the flute. Under the guidance of Late Pandit Bholanath Prassanna, she received her initial training in flute and further have had the privilege to be trained by the living 'God of Flute', the last word in Indian classical flute, PadmaVibhushan Pandit Hariprasad Chaurasia. The title of Surmani and the Sahara Excellence Award are a few accolades to her name. Suchismita inherits the Maihar Senia Gharana lineage and lucky to follow the path paved by Baba Allauddin Khan & Smt. Annapurna Devi.

Bappaditya

percussions

Pankaj

bass

Bappaditya can play his Percussions and Drums simultaneously and giving backing vocals, in remarkable precision, a difficult act, rare in the reach of renowned percussionists. The creation of a sound, performance & experiment with that for the next level of evolution prove his devotion, love & research which shows the endless devotion to his master, Mr. Frank Briggs. He mixes his fantastic rhythmic imagination along with the western effects. He dedicates himself on stage so deep, that his finger-works start to show magic. His 'Sawal-Jawab' and 'Jugalbandi' sessions with the Flute and Bass need to be watched live onstage.

Pankaj's bass covers the completeness of the band's emotion & co-ordinates the whole structure. Being inspired by the renowned bassists Billy Sheehan & Marcus Miller, his layering capability with different rhythmic patterns is excellent. His arrangements for the fantastic Percussions-Bass 'Sawal-Jawab', works like a treat. Sincere interest, quintessential love for the bass & seamless blending of genres & infusion of different influences has helped him to grow & mature musically. The soothing melody lines on his bass takes one on a musical journey like never before.
Photos
Android Mobile App

Android Mobile App of our Band

STEPS To Download & Install:
1. Enter the following URL in your mobile browser:
www.reverbnation.com/gharana/android
2. Tap "Download App" from your Android device.
3. Find the app file (it will be called .apk), and tap it.
4. You should see a message that asks you if you want to install the app. Say YES!
5. You're done! Enjoy our free app & Music :)
Our awards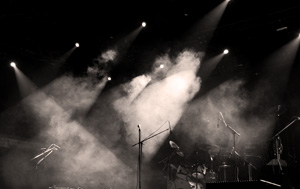 'BEST BAND'
'Technorollix' College Fest